WOVG collaboration done right!
This website was a collaborative project involving EPA Victoria (Environment Protection Authority), the Victorian Department of Health, Metropolitan Waste Management Group, and WorkSafe. Collectively, these organisations have the responsibility for the regulation and protection of Victorians from exposure to asbestos at home, at work and in the environment.
This was a major Victoria Government project involving dozens of people from diverse backgrounds and industries and spanned nearly 12 months.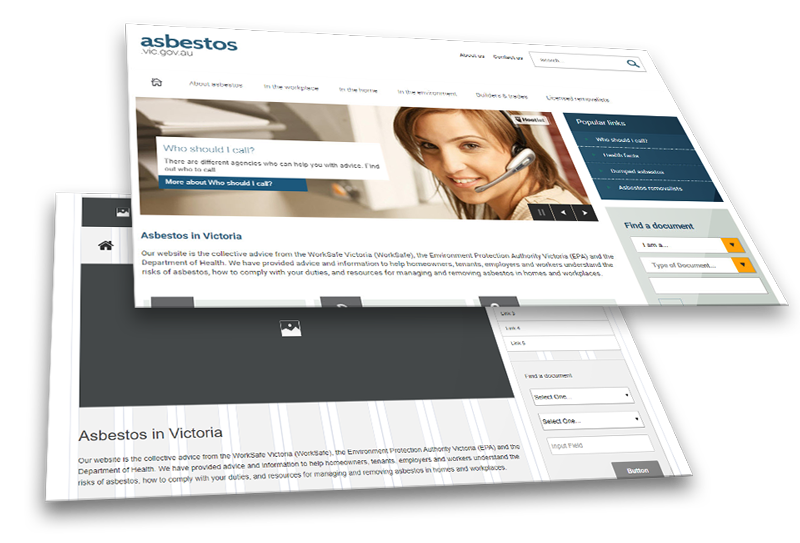 The brief
Build a single, WOVG site for Asbestos related advice.
The site will feature content from Department of Health, EPA, MWMG and WorkSafe. It, therefore, needs to be a neutral branded site, with reference to each partner.
At present, the current asbestos information is old, tired and difficult to find. The content is spread over numerous websites, numerous pages and is poorly structured. The content is also not aligned and features little interactivity. There is little consensus around the advice that exists at the moment, so all the copy needs to be aligned around a single voice.
Content should be fully responsive to all platforms and devices.
The site should be easy to 'choose your adventure', and get right the following issues:
Audience Segmentation
Task Prioritisation
Workflow Process (progress of your journey)
Guidance and Data Visualisation
The overall tone of the site should be one of
'Asbestos can be dangerous, but if you manage the risks properly, it's not going to be a problem'.
User research
The digital team at WorkSafe had strong input from the beginning with tasks including user research and requirements gathering, who is the audience (six personas developed), what the top tasks are, and what the journeys are for each audience. We need a journey that takes the user through the issues and provides a way for them to identify what they need to do. We don't need to teach people everything about the subject – we need to show them what they need to do to make their workplace or home safer.
Other questions we had
How can we provide shortcuts and advice for people who don't go for the info – those that cut straight to solutions?
List of good guidance – how we present a list of good Asbestos guidance to people. What format does the guidance follow
How do we show progress – how do we show people where they are in the process and what steps are still to come?
Use of content and infographics
How do we segment people as they go through the site and make it more relevant (Task vs industry vs role)
User experience design stages
Project kickoff and background research
To ensure alignment in terms of the project's objectives, outcomes and time frames, and an understanding of the domain and  required content for the site
Four requirements gathering workshops
Stakeholder workshop to consolidate business requirements and user journeys, identify an agreed high-level information structure for the site, agree on design priorities
Participative app and form design workshops
With selected subject matter experts to workflow and create high-level draft wireframe sketches for key site pages and up to 6 single page apps
Information Architecture and design
Includes a functional specification that documents the information architecture to 2-levels and finalised wire frame and app designs with specifications for user interactivity
Usability and functional spec testing 
To validate and refine the information architecture (IA) and recommended designs with representative users, plus UAT functional and design specifications
User journey optimisation
User Journeys were created for: Removalist, Residential/General Public, Contractor/Trades, Employees/Workers, Home-Owner/Renovator, Employer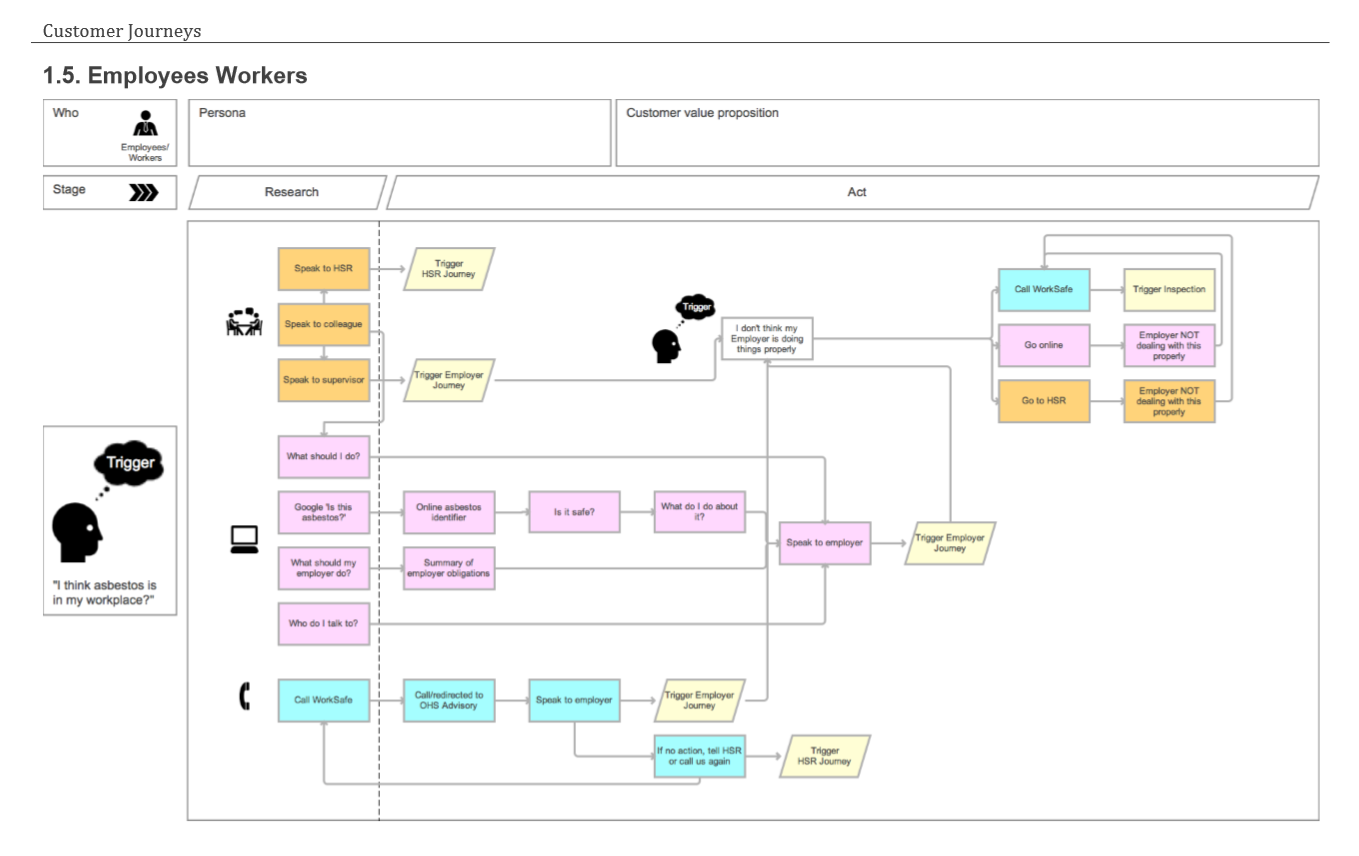 Finalised wireframes (ready to cut up) for 2-levels and 6 single page apps
Delivery
This project was huge in terms of departments and people involved; each department had their own project manager, UX people, web developers, and content writers.
Squiz were engaged to work with us on the entire project covering information architecture, wireframes and design, development, and hosting. There were a number of apps requiring API data connections such as geolocation and postal data for nearest dump sites, and asbestos removalists.
After a couple of weeks of design cut-ups and content migration, the website was launched by the minister and was an immediate success with the Victorian public, who now have a single place to get all their asbestos information.
This project earned WorkSafe digital team awards for innovation and collaboration.